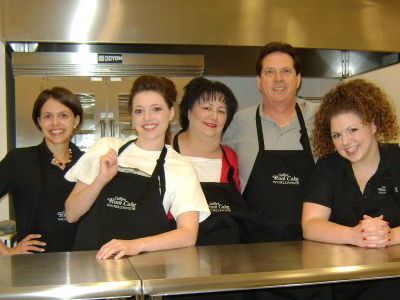 (Lauren) (Madison) (Lisa) (Kelly) (Megan)
THE BEST GETS BETTER!!...
Since 1975, Lisa has been making Arizona's favorite rum cake. Working in her mother's bakery (Cathy's Rum Cake®) for 35 years, Lisa observed through the decades how her family's recipe for Italian custard-filled rum cakes quickly gained notoriety, becoming a time-honored family tradition passed down through generations. Soon, people inquired about sharing their rum cake tradition with family and friends around the country.
With the boom of the Internet, Kelly – Lisa's husband and engineer by trade – recognized that technology could play an integral role in extending the rum cake's reach. In 2007, he ended his 27-year mechanical engineering career to develop the means in which to successfully produce and send these delicate hand-crafted cakes across the United States.
Fast-forward to 2009. Lisa, Kelly and their 3 daughters – Lauren, Megan and Madison – opened the doors of Lisa's Rum Cake® in Gilbert, Arizona. In this new, state-of-the-art factory/store, the Power family incorporated advanced techniques and modern technology into the process of producing the "New Generation" of the original Italian rum cake. Using such technologies as shock-freezing and on-line ordering, they've mastered a process to craft customized cakes upon demand that can be picked-up locally or shipped to U.S. destinations.

In 2013, Lisa's Rum Cake launched their newest invention, Cake CUTS®. Also known as "the single craving that'll have you raving," CUTS are individual slices of Lisa's decadent cakes. Customers all over the country indulge in Lisa's Rum Cake by having CUTS delivered to their front door with free nationwide shipping. Unlike having whole cakes shipped to them, customers can choose many flavors of CUTS, which ship in packs of 8. Over the course of their first 5 years in business, Lisa's Rum Cake has successfully shipped to all 50 states. From Hawaii to Alaska, New York to Florida, pleased customers frequently compliment Lisa and Kelly's high efficiency in modern technology, on-demand production, 24/7 ordering accessibility, and oustanding customer service, as well as the many improvements in the quality, freshness, flavor, and packaging of the original rum cakes. The Power family proudly presents… Lisa's Rum Cake!